MATCHEDASH BAY PROVINCIAL WILDLIFE AREA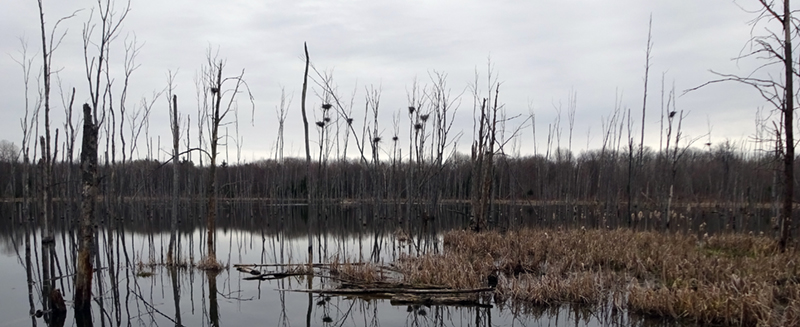 COVID-19 NOTICE: Please note that the 2 metre rule applies everywhere, including parking lots and trails. If you are on a narrow trail or boardwalk & others are coming toward you, back up & pass safely. Dogs are to be leashed or responsive to immediate recall. Check Ontario's emergency declaration for more information.

Matchedash Bay is an internationally recognized Important Bird Area and Ramsar Wetland of International Importance, especially as Waterfowl Habitat.

It is located on the south shore of Georgian Bay almost due north of Coldwater, Ontario. This Provincial Wildlife Area contains 1,840 hectares of combined wetland and upland habitats characterized by mainly emergent floodplain and freshwater lake margins consisting of dense cattail marsh, coniferous wetland, forest, and fen communities.

Matchedash Bay is well known as a staging area for waterfowl and other migratory birds This Class 1 Provincially Significant Wetland has 32 species of mammals, including moose, black bear, and river otter. More than 170 species of birds use the area, as well as 17 species of reptiles.

There are more than 568 identified species of plant life and 34 species of fish. Main activities include bird watching, photography, botany, hunting, fishing, trapping, canoeing, and boating.
VISITORS GUIDE